26 April 2023
URU Metals Limited

("URU")
Update from ZEB Nickel Corp
URU notifies that ZEB Nickel Corp. has today announced the commencement of exploration drilling at the Zeb Project, as well as the appointment of a capital markets advisor and market maker.
URU successfully completed the disposal of the Zeb Project, located in Limpopo, South Africa (the "Project") to ZEB Nickel Corp. in August 2021 and the Project remains the primary focus of URU, through its 73.81% interest in Zeb Nickel Corp. and URU's continuing role as the technical adviser on the Project.
The ZBNI announcement is as follows:
Exploration Drilling Commenced at Zeb Nickel Project Area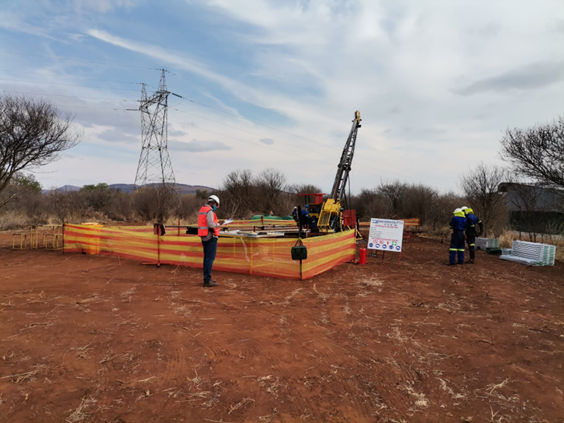 Vancouver, BC, April 26, 2023 –
ZEB Nickel Corp. (ZBNI:TSX-V) (OTC:ZBNIF) ("Zeb" or the "Company") is pleased to announce that further exploration drilling has commenced at the Company's flagship Zeb Nickel Project.
Figure 1: Drill rig site establishment at the Zeb Project.
This phase of exploration drilling will simultaneously target three mineralized zones, as shown in figure 2 below:
a higher-grade nickel mineralized zone identified at the base of the historical drilling within ZEB 1 mineralized package;
last completed exploration program discovered nickel-copper-platinum group element (Ni-Cu-PGE) mineralization located adjacent to and beneath ZEB 1, this style of mineralization is referred to as Target 2. Target 2 was intersected in 10 pervious drillholes and accounts for approximately 3000 meters of drilling.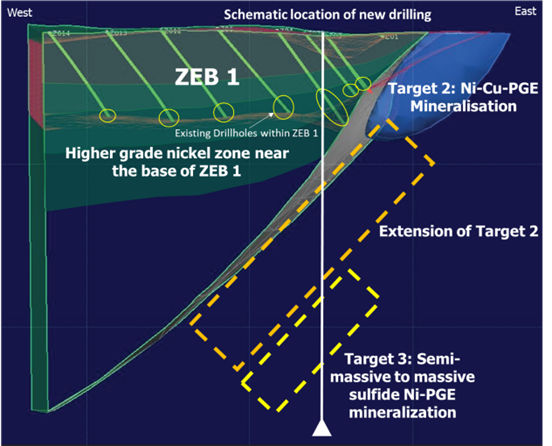 Figure 2: Schematic geological cross section showing 7 of the 32 existing drillholes, and the location of the new drilling planned to intersect higher-grade nickel near the base ZEB 1, the down dip extension of Target 2; and semi-massive to massive nickel sulfide mineralization (Target 3).
The Company looks forward to updating the market with the results from this phase of drilling.
Qualified Person and Quality Control/Quality Assurance
Richard Montjoie has supervised the preparation of the scientific and technical information that forms the basis for this news release and has approved the disclosure herein. Mr. Montjoie is not independent of the Company. Mr. Montjoie is a registered member of the South African Council for Natural Scientific Professions (SACNASP) membership number 400131/09. Mr. Montjoie holds a M.Sc. Honors in Economic Geology from the University of Witwatersrand, South Africa, and is fellow of the Geological Society of South Africa (GSSA).
James Nieuwenhuys, Non-executive Chairman of Zeb Nickel, commented: "Over the years the Project team have assimilated and refined the geological model and we are now confident that this next round of drilling will confirm areas of high-grade Ni and Ni-Cu-PGE mineralization. Our aim is to produce a preliminary economic assessment to map out an achievable path, subject to a positive feasibility study, to the development of a fully de-risked, low-cost, high-grade nickel sulfide project."
Furthermore, the Company is pleased to announce that it has retained INFOR Financial Inc. ("INFOR Financial") to provide capital markets advisory and market making services for the Company.
The Company has entered a services agreement (the "Agreement") with INFOR Financial, pursuant to which INFOR Financial has agreed to perform the following general capital markets support services:
introduce the Company to capital market participants and institutional investors that may include investment funds, mutual funds, private capital sources and other potential strategic investors; and
For its services, INFOR Financial will be paid a monthly fee of $10,000 CAD, plus applicable tax. The Agreement may be terminated by either party on 30 days' notice, subject to a minimum six-month term following its commencement date. Zeb Nickel Corp and INFOR Financial act at arm's length, and to the Company's knowledge INFOR Financial has no present interest, directly or indirectly, in the Company or its securities, but may acquire securities in the future in connection with additional capital market services that may be provided to the Company. The funds and shares required for the market making service are provided by INFOR Financial. The fee payable by the Company to INFOR Financial is for services only.
INFOR Financial will be responsible for the costs it incurs in buying and selling the Company's shares, and no third party will be providing funds or securities for the market making activities. INFOR Financial and the Company are unrelated and unaffiliated entities, but INFOR Financial and/or its clients may have an interest, directly or indirectly, in the securities of the Company.
About the Company and Project
Zeb Nickel Corp is focused on exploring for and developing world-class mineral deposits, with a focus on metals that are critical in the production of rechargeable batteries, such as nickel, graphite, lithium, cobalt, manganese, copper and aluminum. The Company is currently focused on developing its flagship Zeb Nickel Project, located in Limpopo, South Africa. The Zeb Nickel Project is a developing Class 1 nickel sulfide project strategically located in the Bushveld Complex in South Africa.
ZBNI announcement ends
Market Abuse Regulation (MAR) Disclosure
This announcement contains inside information for the purposes of Article 7 of the Market Abuse Regulation (EU) 596/2014 as it forms part of UK domestic law by virtue of the European Union (Withdrawal) Act 2018 ("MAR"), and is disclosed in accordance with URU's obligations under Article 17 of MAR.
For further information, please contact:
| | |
| --- | --- |
| URU Metals Limited John Zorbas (Chief Executive Officer) | +1 416 504 3978 |
| SP Angel Corporate Finance LLP (Nominated Adviser and Broker) Ewan Leggat Harry Davies-Ball | + 44 (0) 203 470 0470 |