14 September 2017
URU Metals Limited
("URU Metals" or "the Company")
Significant PGE Drill Results at Zebediela
2 g/t Platinum Group Elements (PGE) over 9 m in latest drill hole
URU Metals is pleased to announce two significant intersections of platinum group elements (PGE) in diamond drill hole Z019 on the Zebediela Project, located in Limpopo, South Africa.
· The first intersection returned a combined average grade of 1.97 g/t for platinum (Pt), palladium (Pd), rhodium (Rh) and gold (Au) (3 PGE & Au) over 9 m from a depth of 133 m (see Table 1 for further detail). A second intersection returned a combined average grade of 1.6 g/t 3 PGE & Au over 1.8 m from a depth of 169 m (see Table 2 for further detail).
· A total of three drill holes (Z017, Z018 and Z019) have now been completed in the current drill programme at Zebediela. Nickel and copper assays remain outstanding for all three holes, and the first of these, together with the results of the metallurgical testwork from the first drill hole Z017, are expected to be received shortly and all outstanding assay results will be reported thereafter.
John Zorbas, CEO of URU Metals, commented:
"We are delighted in that this drill hole returned two significant PGE intersections. While this drill programme was expected to focus on collecting samples of the nickel and magnetite mineralisation for metallurgical testing, the discovery of PGE mineralisation is not completely unexpected as the Project is located in a major PGE producing area. It is only 10 km away from Ivanhoe Mines' Platreef Project, and about 20 km away from Anglo American's Mogalakwena mine, which is the world's largest open pit platinum operation. The PGE mineralisation at Zebediela is found in magmatic rocks of similar age and proximally related to the rocks that host the Platreef mineralisation mined at Mogalakwena. The discovery of PGE minerals at Zebediela gives us another target for further work as we continue to advance the Zebediela Project."
This announcement contains inside information.
END
For further information, please contact:
URU Metals Limited
John Zorbas
(Chief Executive Officer)

+1 416 504 3978
Northland Capital Partners Limited
(Nominated Adviser and Joint Broker)
Edward Hutton / Matthew Johnson

+ 44 (0) 203 861 6625
Beaufort Securities Limited
(Joint Broker)
Jonathan Belliss

+ 44 (0) 207 382 8300
SVS Securities Plc
(Joint Broker)
Tom Curran
+44 (0) 203 700 0093
APPENDIX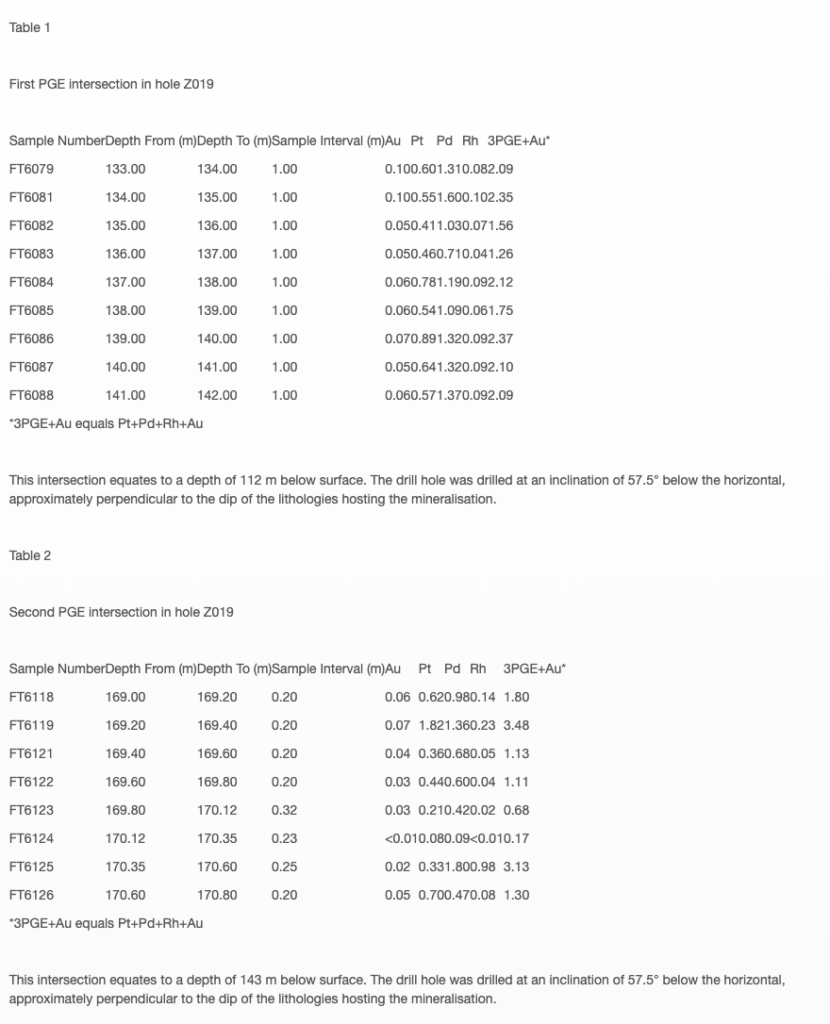 Note
The information in this release has been compiled and reviewed by Richard Montjoie, the Exploration Manager for the Zebediela Project. Mr Montjoie holds a B.Sc. Honours in Geology from the University of Witwatersrand, South Africa, and is fellow of the Geological Society of South Africa (GSSA) and a member for the Society of Economic Geologists, and a registered member of the South African Council for Natural Scientific Professions (SACNASP). He has over 14 years' experience in mineral project development globally. Richard has been involved in several exploration programs in South Africa and Northern Canada, including various Ni-PGE, diamond, coal, coal bed methane and gold exploration and mining projects. Richard provides sound geoscientific input in development planning to ensure effective data acquisition, management and project execution. Richard successfully acted as Project Manager for a 39 Moz platinum feasibility study, advancing the project from exploration stage to a completed bankable feasibility study with proven and probable reserves, on time and under budget, managing all aspects of the programme, from exploration programme design to various licencing applications. Richard is a Competent Person as defined in the AIM Note for Mining, Oil and Gas Companies.